How Does Quetext Make You A Better Content Writer?
If your content is unique, there are higher chances of getting ranked. But, when people worldwide post 7.5 million blogs every day, how do you even determine what's unique and what's not? It is impossible to sift through content online and see if their content is unique or not. But some content writing tools can help you do that, and one such tool is Quetext. The blog post is dedicated to dissecting: –
What is Quetext?
Who can use Quetext?
What are its free version's features?
How much does the tool cost?
What do you get in the paid version of the tool for content writing?
And our rating in terms of its importance, user interface, and affordability.
Without dilly-dallying, let's jump right into Quetext's review.
What is Quetext?
It is a tool that removes duplicity. As discussed above, one factor you must keep in mind when working on SEO is plagiarism. Google wants to provide the best to its user. And users do not like to search for something and get the same results on all pages. Thus, Google penalizes plagiarism. So, it's best to remove plagiarism from your content too. Quetext is one such tool that lets you do that.
Who uses Quetext?
Content Writers and Copywriter
Content Writers and Copywriters are the target users of this tool. Since it is the responsibility of the writers to ensure there is no duplicity in their content, Quetext becomes an essential content writing tool.
Academicians
It is highly unethical for academicians to plagiarize work; thus, students pursuing their degrees use a plagiarism tool to remove plagiarism from their work.
Teachers
Teachers have to ensure that their students have not copied their assignments from the internet. Thus, they use plagiarism-remover tools to ensure that the grading process is fair and ethical.
Bloggers
As content writers, bloggers use the plagiarism-remover tool to ensure that Google does not penalize them for copying content. Moreover, bloggers have also to ensure that their blogs are not similar. Thus they use a content writing tool like Quetext to remove duplicates.
Features in the free version
Quetext offers a free version for a lifetime but has limitations to its use. Professionals who are unsure if Quetext will suit their needs can use its free version and take a test drive of the content writing tool. Here is what you can expect from the free version of Quetext: –
· You can check only 2,500 words per day. On top of that, you can only check 500 words per check. So, if you are a blogger or a content writer who writes blogs and content more than 500 words, using the free version will be a frustrating and lengthy process.
· ColorGrade™ Feedback shows you the duplicate text with a different colour to quickly identify and rectify your mistake.
· Contextual Analysis so that you get the maximum possible detected plagiarism.
· Fuzzy matching so that you get even the barest possible match and remove it for good.
· Conditional scoring to give you the most effective plagiarism score on your writing.
Price of the premium version of Quetext
Quetext claims that they have fair and straightforward pricing and thus only have one premium plan called Pro. The cost of the pro plan is $9.99 per month per user, and there are no discounts as such if you opt for the annual plan. But, what does the pro membership offer its users? Let us find out.
Features in the premium version
The pro plan comes with comprehensive features such as:
Checking 100,000 words per month.
DeepSearch™ extended so that you get an extensive result and remove as much plagiarism as possible.
Citation Assistant so that you can properly place the citation. Sometimes you have to use statistics from the internet and thus need to give the citation. Similarly, research papers have to reveal their resources, and therefore this feature helps them do that.
Downloadable Originality PDF Report in case you have plagiarism. You cannot download it if there is no plagiarism.
Custom URL exclusion if you want to tell the tool to exclude certain pages on the internet.
Premium support in case you have problems with the tool.
Is the premium version worth it?
Rating it on the importance of tool
Plagiarism is an absolute no-no for search engines. Thus, a tool that effectively lets you remove it and help you rank your content is an absolute must for every content writer, copywriter, and blogger. Plus, as far as my personal experience, it is far more effective at removing plagiarism compared to others. Thus, its technology is better than the rest of similar content writer tools.
Thus, in terms of importance, it gets a 10/10.
Rating it on the UI/UX of the tool
The tool's UI is not the best. Firstly, it ignores the format, and thus it becomes difficult to find out which part of the content has duplicity. Then. You cannot correct the plagiarism right then and there. You have to locate the faults in your editor and make changes. It makes the process of removing duplicity challenging. Also, when you re-check your document, it shows you duplicity it didn't show before. So, you need to use the tool a couple of times to remove every duplicate sentence, which is a bummer.
Plus, if you check long documents, it takes a long time for the tool to process them. So, if you are using the tool, make sure to give the tool ample time to do its work. And its feature of downloading reports is only great if there is plagiarism. If there is none, you cannot download the report.
So overall, in terms of the user interface, the tool gets a 6/10.
Rating it on the affordability of the tool
The tool is quite affordable given how effective the tool is in terms of its performance. But, despite this, there is one annoying thing about Quetext. If you finish your limit of 100K words, you have to purchase additional credits. It is all well and good since you get what you pay for, but it becomes irritating to run out of credits when working on a project. So, they should have more tiers for different people. So, for people who require less than 100K words, they have a cheaper alternative.
Thus, we rate it an 8/10.
Alternatives for Quetext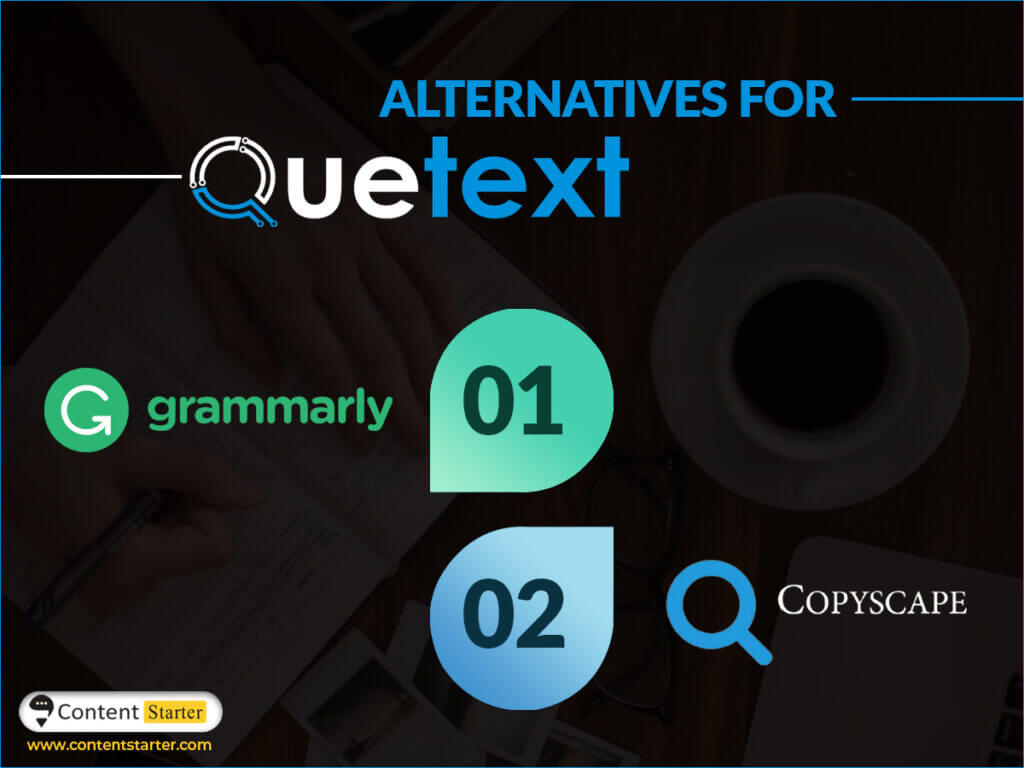 Since it is one of the best plagiarism-removing tools for content writing out there, there are not many alternatives that match it, but here are some that cover some of its shortcomings: –
Copyscape (cheaper than Quetext)
Grammarly (faster than Quetext, let's you edit within the interface and has much more to offer than Quetext, check our review of Grammarly here)
Final rating and Conclusion
The final rating is eight since it works well and is beneficial for all its users. In all, we would like to end by saying that removing plagiarism is a crucial part of being a content writer. And plagiarism is bound to sneak up due to the amount of content on the internet. But if a content writing tool can help you simplify your life, you should do so with it.
We hope the review was helpful. Share the blog with people looking for a plagiarism-remover tool. It may help them reach a well-informed decision.