Is Notion A Suitable Content Writing Tool? | Notion Features
Notion is an all-in-one workspace. You can write, use spreadsheets, Kanban boards, calendars, reminders, etc. Essentially it is a tool that lets people organize their work lives. Today, our purpose is to see whether Notion if Notion is a good content writing tool. Since it combines organization with writing tools, the aim would be to examine each feature and see if that solves problems that writers usually face, which is: –
A tool that lets them write without any distraction
A content writing tool that is good at capturing ideas
And if it helps content writers organize various content types (because most content writers sometimes are writing blogs and sometimes are writing social media content).
Who uses Notion, and how do they use it?
The first time I heard about Notion, it was from a YouTube channel that talks about productivity. Since then, I have seen many creators use Notion to write content, distribute it, track their sponsorships, etc. As I researched, I found that nearly everyone working, whether in a startup or in a more prominent company, is using Notion. Here are some professionals who are related to content writing and creation use it: –
Content writers and copywriters: Notion's most straightforward functionality is text editing. Which is essentially a tool for content writing and copywriting. Content writers and copywriters use Notion to write content and different content for different clients, brands, and internal content needs. It also allows writers to give individuals access to the document without providing access to all their documents. Plus, they can invite people for collaboration too. If you are searching tools for content writing, you can find 16 free content writer tools here.
Marketers: Marketers not only have different clients but different stages of each campaign. With Notion, they can divide each phase of the campaign and work on each step separately. Plus, the quick search feature of Notion allows marketers to easily search for their projects.
Features in the free version
Notion has a lifetime free tool, but it's just for individual and personal use. So, if you are a freelance content writer just starting your journey, Notion will be great for you. It will not only help you write but also organize your work and manage it like a boss. Here are some key features of the free version:
Unlimited pages, so you can write as much as you want.
Unlimited blocks; blocks are different formats of content you can add to your page, like images, videos, texts, databases, etc.
Kanban Boards to organize your workflow
Databases to keep track of numbers and data. Databases are the equivalent of Excel in Notion but have limited functions. As a content writer, you can use databases to keep track of your word count every day.
Calendars, so you never miss any meeting.
Wikis so that you can have the company's profile handy. A wiki is collated information on a topic. As a content writer, you can use Wiki to document customer persona and competitor data.
Reminders, because not everyone is blessed with sharp memory. Reminders in-built in your content writing tool is a great way to never miss deadlines.
The ability to link every feature with each other.
You can share your work with 5 other guests for collaboration.
Sync with other devices. Notion is available as a content writing software (both on Mac and Windows), an online content writing tool on your web browser, and a content writing app (both on iOS and Android). Thus, you can use Notion on the go.
Unfortunately, there are features that the free version lacks. Let's discuss what they are in the next section.
Price of each premium version
There are three tiers of premium version: –
Personal Pro: Notion charges $48 (paid per annum) and $5 (paid per month).
Team: Notion charges $96 (per member per annum) and $10 (per member per month).
Enterprise: Notion wants you to reach out if you have a big team and discuss the best course of action.
Features in each premium version
The personal pro is made for users who work alone and want to achieve extra. Thus, this tier has:
Unlimited file uploads so you can upload as many files as you need without worrying about any limit.
An upgrade from the free version that only allowed 5 guests, person pro, enable unlimited people to collaborate on your projects.
A feature I appreciate about Google Docs is seeing the previous version of the same document. And in the personal pro version, you get this feature. Want to see the changes you made in the first draft Notion's personal pro will let you do that.
The next tier is the Team, where you get everything in pro and more features. As the name suggests, this version is made for teams where different people have different roles and work together on a single project. Thus, the features in this tier are:
Unlimited people, you can invite to collaborate with you. And you can choose which team members can access your workspace and which cannot.
Since changes happen rapidly in a company, you need to share information and keep everyone updated. Thus, Notion allows you to share pages with each team member and give you granular control over what a member can do on that page. So, if you want certain members to have viewing access and others to have editing access, you can do that.
You have more control over who can share what. If you want to let Person A edit the document but restrict them from sharing it with someone else, Notion allows you to set the restriction.
But, apart from these tools, it also gives you admin tools so that only a selected few have the means to set boundaries. It helps the team be organized and streamlined with the most minor confusion possible.
The enterprise is for a bigger team and has features such as a dedicated Notion manager to help them with any issues and a custom contract to ensure that you get the best deal. It also promises to give secure sign-in at scale and SCIM API to manage groups.
Is the premium version worth it?
Rating it on the functionality of the tool
Notion claims to simplify content creation since it has different features that streamline work processes. In simple words, it is Word, Excel, Trello, Calendar and Reminder all rolled in one and on the cloud, so it is easy to access it on any device. In practicality, yes, it does help to sort out your work processes and reduces confusion and redundancies. Frequently it is tough to track what we are writing and how much we are writing. With this content writing app/software/online tool, you can get organized and ease.
Also, since you can use it on your phone, it's useful as a content writing app to write and capture ideas. So, if you get an idea while a stroll in nature, you can write it down on Notion and work on the idea ASAP without the hassle of remembering where you wrote down the idea. That's perhaps one of the most significant advantages of Notion as a content writing tool.
However, be warned it is only good at getting drafts, not formatting. Thus, use Google Docs or Microsoft Word to format your drafts.
We give it a 9/10.
Rating it on the UI/UX of the tool
The UI/UX is not the most intuitive in the world. They give you a template to start with, but you would have to read blogs and see videos to understand how to customize it for maximum usability. They also have webinars, video tutorials and blogs on the Notion website so that you can navigate the tool and discover all the things you can do with each feature.
But, once you get the hang of it, you won't find any other difficulty. The drag and drop interface makes using the tool easy, and the database feature has just the correct number of features. Personally, I use it to record word count, just because I like to track things in my life (also, I geek out on numbers big time).
Moreover, the interface is aesthetic and is clutter-free so that you can focus on writing without distraction. As content writers, we all want an online content writing tool that lets us write without distracting us with its interface (because, let's be honest, sitting down and writing for hours on end is not as easy as it sounds).
We give it a 7/10 (just for that initial adjustment period).
Rating it on the affordability of the tool
The tool is surprisingly affordable. Given that it organizes and saves you time, it's a pretty good tool for online writing without burning a hole in your pocket. Plus, for freelance content writers, the free version is more than enough. It will let you efficiently manage every aspect of your career, whether it's personal branding (Kanban boards), meetings (Calendar), writing (pages), and tracking payments (database).
We give it a 9/10 for affordability.
Alternatives for Notion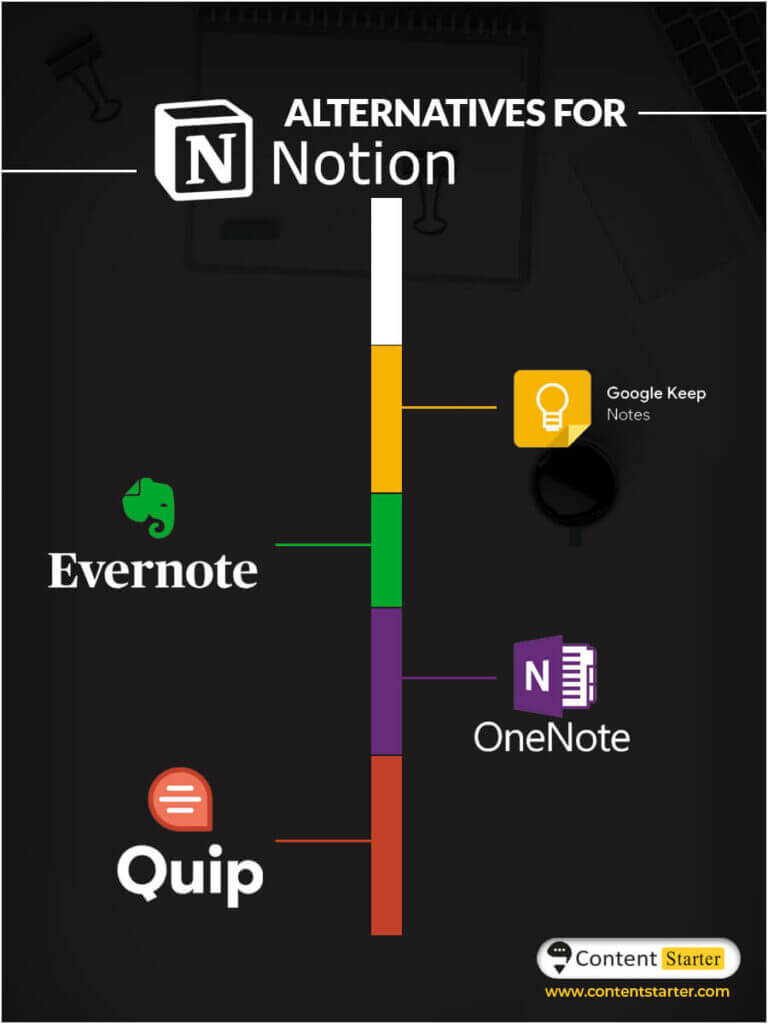 Before we move onto the final rating and conclusion, here are some alternatives for Notion:
Google Keep Notes (can be used to only write and is available on computer and phone)
Evernote
Microsoft One Note
Quip (includes many features of Notion but is enough for basic needs)
Final rating and Conclusion
Cumulating the rating, the final rating for Notion is 8.3. It is not only one of the best content writing tools, but it is also one of the best tools you can use to increase your productivity. It will save you the trouble of keeping track of different information on different tools. Moreover, it also is a superior content writing software and content writing app on the market.
In the end, these software and apps ate tools that can take some of your stress, let you work in peace and produce good work. If you are looking for free tools like Notion to increase your productivity, check out our blog on 16 free online content writing tools you cannot miss.