The job of a content writer is hard. But sometimes, it's even harder to get a job as a content writer. Let's paint you a picture: you apply to content writing jobs online but seldom get any interviews. And when you do get an interview for a content writing job, the company asks for a "deposit" to bring you the perfect job. Either way, you feel that there are no content writing jobs.
Let me bust that misconception and tell you that it's not the case. There are jobs out there; you have not been searching and taking the necessary steps to land the job. Here, we have discussed the different content writing job roles in the market (yes, there are multiple) and where to find them. We also have discussed some tips to stand out from the crowd.
Different Levels Of Content Writing Jobs In India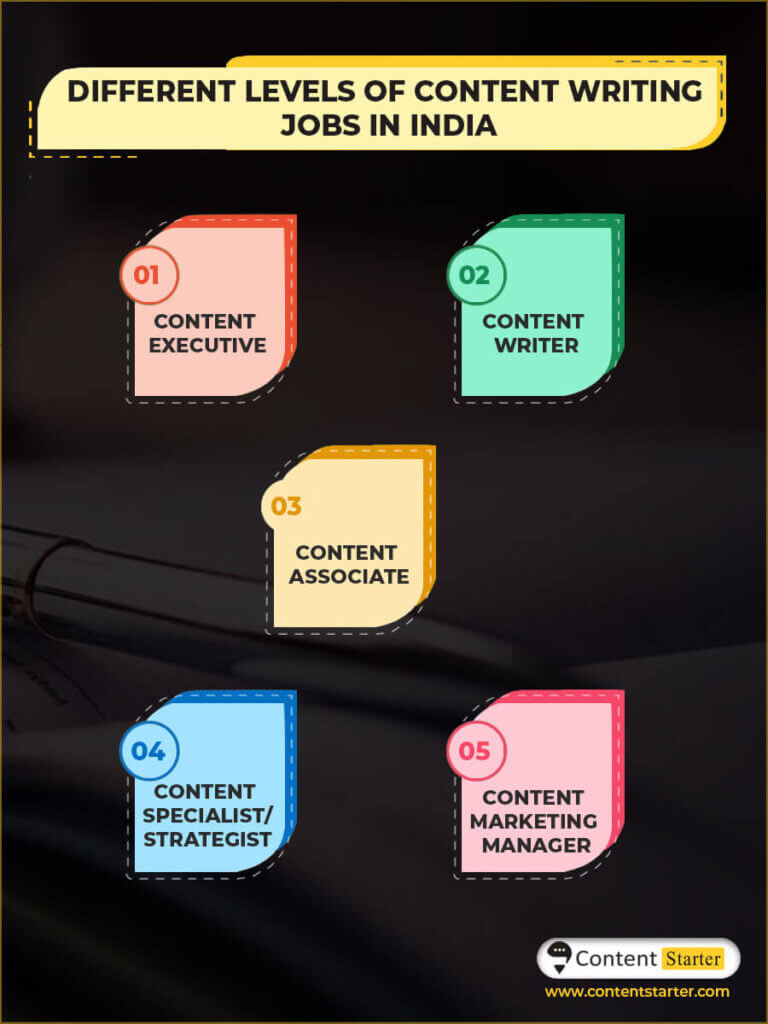 Every content creation process requires brainstorming ideas, keyword research, competitive research, writing content, publishing it, and ensuring that the content is the overall strategy.
Thus, the more skills you have to handle as many content creation steps for content writing jobs in India, the more you will be paid. Therefore, we have assembled various levels of content writing jobs starting with the least paid to the most paid.
Content Executive
The content executive is responsible for the first few stages of content creation, brainstorming ideas and the initial research. The skills they need is a basic understanding of the industry and knowledge of SEO.
You are not required to write the content; provide ideas and necessary keywords to the content writer. Content executives are also referred to as SEO executives. So, when you search for jobs, search for both these phrases to apply to as many jobs as possible.
Content Writer
Content writers are meant to write content as per the keyword research and the content idea. Vital skills to get a job as content writer are: –
Basic understanding of grammar rules,
Ability to write clear and impactful blogs or articles, and
Organic incorporation of keywords in a way to please the reader and the algorithm.
Content writers who can do a content executive or SEO executive will get paid more than the writers who write. Thus, when you have experience as a content writer, acquire the skill of SEO research to get paid more stand out from the crowd.
As a content writer, you may also have writing social media posts as one of your responsibilities. Thus, practice writing short-form content too. If you want a guide on how to get started as a content writer, click here.
Content Associate
It's one thing to write the content; it's another to write it suit the platform. Content on a guest blog will be wildly different from a native blog. Similarly, a tweet will be different from a LinkedIn post. Thus, ensuring that the content is platform appropriate and published at the most optimum time is the responsibility of a content associate.
Plus, they are the ones who are responsible for uploading the work, so you have to be comfortable with programming languages and WordPress's content management system. Content associates have similar responsibilities as the social media manager, so when looking for these jobs, search for social media manager jobs too.
Content Associates are responsible for actively creating and posting content on virtual media.
Content Specialist/Strategist
Writing content and uploading is well and good, but if it doesn't follow a strategy, what is the use? Without a strategy, the most well-researched and excellent content will fail. Thus, a content strategist makes a strategy and brings each piece of content in cohesion with each other.
Plus, they also make sure that your brand-building content and marketing content complement each other. Your brand's message is not diluted is the job of a content strategist.
Content Marketing Manager
We have all heard that content has a great return on investment. But who is responsible for bringing in results from your content effort? It is a content marketing manager. A content marketing manager takes care of bringing in leads using your content.
A content marketing manager and a range of strategies' overlap, but the latter does not promise direct results. Content marketing managers promise some ROI and are thus paid well.
The great thing about each pro le mentioned above is that all of them can be done by freelancers and be full-time positions. Some people choose to do both to get a steady income from their full-time job and supplement that income with freelancing. Thus, should you choose full-time, freelance or both?
Full-time Vs. Freelance
Full-time's most significant advantage is the consistent pay. The stability of a full-time job as a content writer lets you focus on work instead of making ends meet. However, a disadvantage as a full-time employee, especially in India, is the under-paid opportunities.
Content writing and marketing is relatively new to India, and thus people don't know the importance of content. Many look down upon content writers and scold them for asking for fair pay. Some may even give the excuse of the pandemic and get out of paying you fairly. Thus, finding full-time opportunities where: –
Your work is appreciated.
You are rewarded for good work.
You have constant guidance from people who have been working for a long time.
And you have a work-life balance rare.
Thus, freelancing becomes an attractive opportunity because you choose the project and client you want. You can work with international clients who appreciate content writers and are respectful towards you and your work.
The downside of freelancing is the unstable pay and difficulty when you want to re-enter the job market. Many companies do not count your freelancing experience and thus refuse to hire you. Therefore, many people choose a hybrid option.
Many professionals work full-time and supplement their income with freelance work. It solves both the problem of getting no appreciation and unstable income. But the downside of this arrangement is maintaining a work-life balance. Suppose you are someone who can manage their time well and not burn out. You can go the hybrid route.
We have only discussed where to find full-time gigs, if you want a detailed guide on freelance gigs, contacts us to let us know.
Where To Find Full-Time Content Writing Jobs
Before we discuss where you can find jobs, it's essential to know that having a solid CV is crucial along with your portfolio. Regardless of the duration, positioning and presenting yourself is key to finding a better job if you have worked before. Do not resort to lying or exaggerating; that won't work. Instead, be authentic and focus on numbers.
If you have written 30 blogs in your previous job, highlight that you wrote 30 blogs. If you could increase the follower and reach of the previous employer's social media pro le, highlight that Numbers show your work's effectiveness, thus keeping them at the forefront. You can also include relevant personal projects. If you manage a blog or Instagram page, tell them how your content helped you grow. Once you know how to position yourself, let's see where you can find content writing jobs.
Job sites
Content writer's jobs are not always under the term content writer. As discussed above, many job roles may have similar responsibilities, but they have different names due to a few differences. Thus, you can widen your search and search for the roles.
You can also apply for PR executive since that job is primarily writing but for public relations purposes. Job sites are a good starting point, but there are additional steps you have to take to stand out. Ask yourself how you can stand out from other 100s of people? We can give you some tips that will make you stand out: –
Find the recruiter, not in a creepy way, but their LinkedIn pro le. Use an extension like Snov.io to find their email ID and send them an email. Please write a catchy subject line and talk about them first. Tell them you liked the LinkedIn post they made or something along those lines. You can then introduce yourself and tell them why you are perfect for the job role. Keep it short; nobody likes long emails. And then wrap it up with a call to action, like a reply to the email, or they should call you for an interview.
You would be one of the few candidates, if not the only one who will email them and have a higher chance of getting hired. Additionally, you can email one of the employees of the company. If employees bring in a candidate for a job opening, they get certain bonus if their candidate gets hired. So, approaching an employee will bene t them and you.
You can use LinkedIn's paid version to use the InMail feature to message people even though you are not connected to them. It cuts the hassle of sending an email and directly lets them check your LinkedIn pro le. Optimize and spruce up your pro le before sending InMails.
Content Writer Job Boards
Twitter and Instagram have job boards and unique pro les that post about companies looking for a candidate. They mention the job role, the company, its location, etc. On Twitter and Instagram, you can follow relevant hashtags to find these profiles. We can suggest an Instagram pro le called Social Samosa Jobs that regularly update about the available jobs.
Approach Small Businesses
If you can't find companies with jobs doesn't mean the companies don't need a content writer. Some businesses aren't even aware that they need one. In that case, you should look for small businesses and email them explaining why they need content and why they should hire you. This strategy takes time, so be patient. If the company replies something like, "we don't have the budget", you
can pitch a trial run. You can also show how their competitors are using content too. The comparison may push them to think about their content needs.
Approach Your Network
You must have some colleagues or friends who are content writers or in the digital marketing eld. Ask them to send any opportunities your way.
Sometimes companies do not post jobs online; instead, they rely on their network. If any friend, relative, a colleague is part of that network, they can send you the opportunity or directly send your resume to the recruiter.
Leveraging your network is one of the most underrated strategies for finding a job. Many recruiters do not want to spend money to post jobs online, and thus relying on just online job postings is not practical.
Conclusion
To sum up, we discussed the what is a content writing job and different roles. We also discussed that it is crucial to position yourself when you want a job as a content writer. After that we talked about places where you can find the best content writing jobs and hidden ways to apply for content writing jobs. These places will help you find people involved in content writer hiring and content writer recruitment. We hope you find a content writing job soon, and it's everything you want in a content writer's job. See you next time with another value-packed blog!