When we think about writers, the image of an author comes to mind. Today, however, the term 'writer' construes a different meaning altogether. To be honest, writing has come a long way from being just a creative expression. Instead, writing has become a subtle blend of art and science. And, master blenders in this art are regarded as content writers. But this brings us to a series of questions: –
How can you become a content writer?
Is content writing a good career?
What are the various avenues of content writing?
Who hires content writers?
What are the benefits and demerits of a content writing career?
Keep reading to find out the answers to the questions above.
What Is Content Writing And Why Is It Important?
Content writing is writing and editing any piece of content that you may see online/digitally or offline (brochures, posters, pamphlets, books, etc.). The demand for content is rising due to the increasing role content plays in a company's sales.
But it makes us wonder, how can content influence sales? It's because purchasing decisions are made by comparing information about two products and reading reviews. Before, retail stores and salespeople offered this information.
However, the roles shifted to content. Content became much more substantial once the lockdown hit. When we were unable to go to stores, our reliance on online information such as blogs, reviews, and videos to make a purchasing decision increased a hundred-fold.
Thus, the importance of content and, by extension, content writers increased.
Avenues Within A Content Writing Career
Since the importance of content writers increased, a content writer's career has expanded in the post-covid era. Thus, content writers now have the chance to explore the following avenues: –
Blogging
When we want to buy a new phone, we search online for our mobile phone requirements within our budget. You read the first few blogs and make a decision based on the information.
Ever wondered who wrote those blogs? It's a content writer. Content writers who focus on writing blogs have their own blogs or work for other companies and blogs. These websites earn via affiliate links. Affiliate links are unique links via which bloggers earn a commission. The person who uses the link doesn't incur any extra charges.
Blogs also serve a bigger purpose for businesses. They help direct traffic towards a particular website or product page, increasing the chances of sales. Thus, companies and agencies hire content writers to write blogs to increase web traffic or sales for themselves and clients, respectively.
Technical Writing
Some industries like medical, IT, finance, etc., need writers who have deep knowledge about the subject. But not every writer is equipped to talk about complex topics. Writers who have specific knowledge are called technical writers.
Technical writing can limit the companies you can join or freelancing clients you can onboard. However, the money you can earn from it is far greater than other sub-categories.
Companies prefer to hire technical writers with specific qualifications; some may even require PhD degrees. However, a bachelor's or masters can suffice you as well.
Social Media Content
If you are an active internet participant, you may have used social media platforms. With tons of people returning daily to these platforms, businesses have started establishing their social media presence.
But the competition for consumer attention is high. They need to push quality content at a higher speed. Social media content writers help these businesses serve fresh and relevant information to their customers.
The content is bite-sized and requires more creativity. Thus, if you love social media, are creative, and have writing skills, you should definitely try your hand at social media content writing.
Script Writing
There is a ton of difference between written content and spoken content. If you have ever come across brand videos, you would soon notice that even though all of them are scripted, they maintain a rhythm.
Thus, another avenue you can explore in your content writing career is scriptwriting. Excellent debaters or public speakers can try their hand at professional scriptwriting. Even if you were not a public speaker but have a flair for fascinating conversations, scriptwriting would be perfect for you too.
Ghostwriting
Many famous personalities write books, but not all of them are writers. However, they can afford to spend money on quality ghostwriters who can write their books. Ghostwriters are writers who write the book but cannot claim any rights over the book; the book's copyrights belong to someone else.
Since you are letting go of any legal claims, you are compensated heavily for your effort. Plus, you are not responsible for its success or failure and do not have to be a part of the book's marketing campaign.
You can choose between writing fiction books or non-fiction books, but we advise that people who like to creatively apply themselves can decide to write fiction and vice versa. If you are capable of detaching your emotion from your work, ghostwriting will be a lucrative opportunity.
Who Should Become A Content Writer | Content Writing Skills
• Do you thrive on forming sentences from abstract and complex subjects? If yes, then you are suitable for the job.
• You have a basic understanding of vocabulary (yes, you do not need Shashi Tharoor English), sentence formation, and grammar in any language. Vernacular content is on the rise, and thus your ability to write in languages other than English is excellent.
• Your manager may assign you to write on a topic you have never heard before. You need solid Googling skills and comprehension ability to get through your career as a content writer.
• Good writing has variety and the ability to engage the reader. A bit of creativity goes a long way in your career as a content writer. But, if you want to become a ghostwriter for fiction books, you may need more creativity and imagination.
• If you have a degree in medicine, life sciences, finance, etc., you are set on your way to becoming a technical writer.
• Above all, good writers can write, but excellent writers can edit adequately. Good editors know what to keep and what to delete. If you can delete your favourite sentences to sharpen your writing (which is a rare talent, FYI), then you are perfect for the job.
Here is a detailed blog on all skills content writers must have and how you can acquire these skills.
Who Employs Content Writers
Companies
Content drives web traffic and sales (albeit indirectly). Businesses need website content, blogs, social media posts, email, internal communications, and more. Before the internet, the only content companies needed were advertisements. They would just hire advertising agencies to run their campaigns.
But now, there is a rise in companies hiring an in-house team; the team ensures a shorter period and more accountability. Thus, if you want to work in a specific industry, you can apply for content writer positions in the companies of your choice.
Agencies
Advertising agencies, marketing agencies, creative agencies, content agencies, and in short, every agency under the sky needs content writers. Since they need to promote and increase their clients' sales, agencies have started hiring content writers to execute their content marketing strategy.
Moreover, if you are a generalist (someone who has a wide variety of interests) instead of a specialist (someone with a few subjects' deep knowledge), then an agency life will suit you. Agencies onboard companies from different industries, and since variety is the spice of your life, you will seldom feel monotony in your work.
Freelancing
But what if you want to be your own boss? A content writing career can do that for you too. Small businesses invest in content sparingly. Thus, they prefer to hire freelance writers. The enterprises pay them on a per-project basis and reduce the cost of their content. Freelancers enjoy the fruit of their labour without any middleman. They work with more than one client and have the flexibility to choose their client.
Thus, if you are looking for more freedom and flexibility in your career as a content writer, freelance content writing might be the perfect fit for you.
Advantages of a content writer career
• The barrier to becoming a writer is low; you don't need specific qualifications (except technical writing).
• Many sub-categories and options; pick the ones that suit you.
• It's easier to switch from a content writing career; content writers have a wide array of options in front of them. They can reskill themselves and become copywriters, social media managers, writing coaches, authors, content marketers, etc.
• Work fulfilment and satisfaction are high.
Disadvantages
• There is high competition in a content writer's career.
• There are often strict deadlines. Thus, time management is essential; if you slip up on your deadlines, it can lead to severe consequences.
• Most jobs are located in Tier 1 and 2 cities; if you live in a Tier 3 city, you need to specifically look for remote work opportunities or shift to another city.
• The unexpected arrival of writer's block can be frustrating. Writer's block makes it hard for writers to produce any work. It requires rest from work to rejuvenate your energy.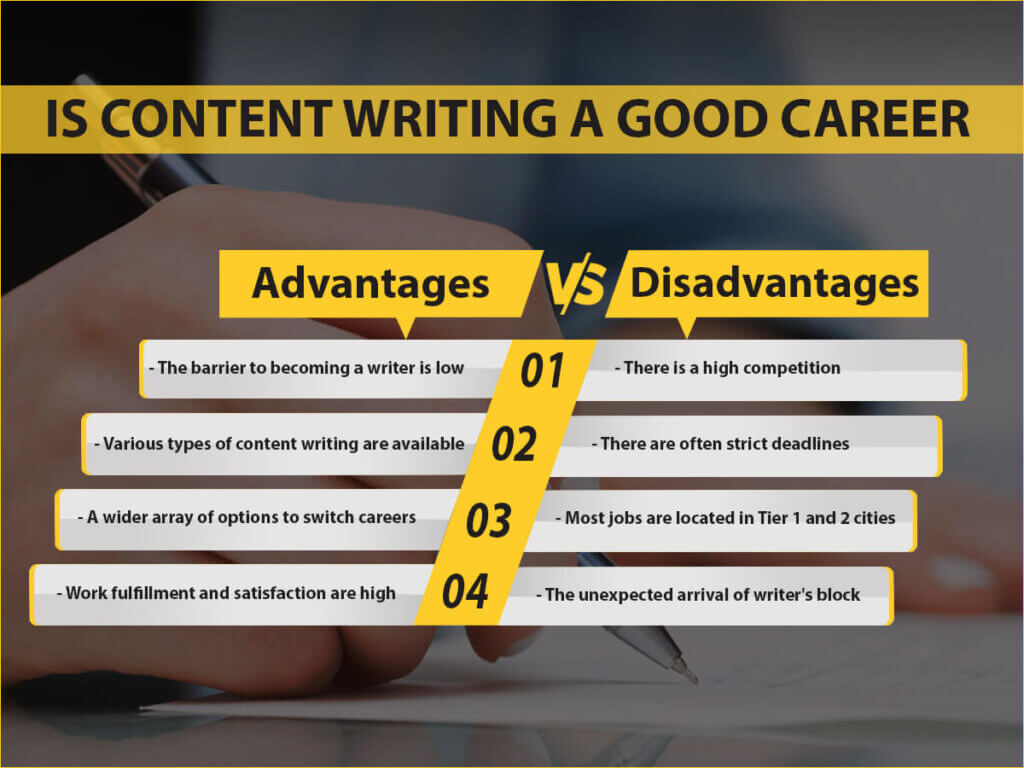 Conclusion
So, is content writing a good career? The answer is a loud yes from us. Content writing gives you options to explore, earn while writing, and
There is also a secret weapon to increase your content writer career growth. What's that, you ask? It's Content Starter! Content Starter is made for beginners like you, who are trying to navigate the wonderful world of content writing.
Our writers have experienced what you are going through and guide you by doing what they do best- writing content. If you found this helpful blog, subscribe to our newsletter.